Reliance Jio launches new Rs 499 4G plan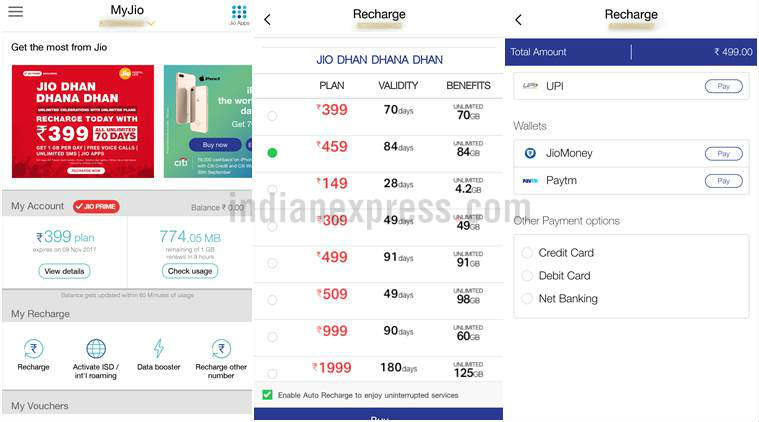 Reliance Jio has announced a new Rs 499 4G prepaid recharge voucher. Under this plan, users get 91GB data over a period of 91 days, with a limit or FUP (Fair Usage Policy) of 1GB per day. This plan is similar to company's Rs 459 plan, which offers 84GB data over 84 days. This prepaid offer appears to be limited to the MyJio app as we could not find it listed on company's website.
If we look at yearly data offerings of Jio's Rs 499 and Rs 459 plans, then the former offers 364GB in total while the latter gives 420GB data in all. Assuming people decide to go with company's Rs 499 plan for a year, then they'll have to recharge with the same amount four times in a year, spending Rs 1,996 yearly. In order to cover a year with Jio's Rs 459 plan, users will have to recharge five times and spend Rs 2,295.
Remember, data restriction for these plans is 1GB per day. If we look at Jio's Rs 4,999 prepaid plan, it gives 350GB data for 360 days (less than 1GB per day), and there's no FUP. Of course, company's Rs 499 and Rs 459 plans make sense on a yearly basis as they offer more data and cost a lot less. However, Jio's Rs 4,999 recharge voucher is best suited for people who do not want to restrict their data usage to 1GB per days. Plus, it does not require recharging multiple times in a year.
Another long-term prepaid from Reliance Jio is that of Rs 1,999. It gives users 125GB 4G data over 180 days. To cover 360 days (a little less than a year), users will have to recharge with Rs 1,999 twice and they'll get 250GB in total. Yearly recharge amount adds up to Rs 3,998.
Source by:-indianexpress